BEARYS ENVIRO – ARCHITECTURE DESIGN SCHOOL
Where we believe architecture is expression and physical manifestation of civilizations.
"As an architect, you design for the present, with an awareness of the past, for a future which is essentially unknown."
– Sir Norman Foster
Bearys Enviro-Architecture Design School is a progressive School of Architecture, with its overarching mission of environmental consciousness embedded in the name of the institution. The school seeks to sensitize and equip future architectural design professionals to meet the serious challenges of Sustainable Development and fulfil their roles as responsible practitioners of Green Architecture. In line with this goal, BEADS engages faculty, industry experts, and researchers from various parts of the world, who provide insight into diverse design approaches and challenges, to inspire students and keep them abreast of best practices in Sustainable Development and Design.
B.ARCH
5-YEAR BACHELOR OF ARCHITECTURE COURSE
COA
APPROVED BY THE COUNCIL OF ARCHITECTURE
VTU
AFFILIATED TO THE VISVESVARAYA TECHNOLOGICAL UNIVERSITY
The experiential nature of the curriculum lays emphasis on blending prescribed theory content with first hand site and workspace visits, organising of workshops and field trips. This methodology equips the students to observe and help handle real world challenges upon graduation. The fundamental philosophy of our program is to understand that architecture is not limited to pandering to visual aesthetics alone but to evoke a deep empathy to the ecosystem that sustains life and prepares one to be a steward of nature while delivering professional services.
State-of-the-Art Auditorium
Passive Lighting & Ventilated premises
Building Materials Museum
Football and Athletic Field
Separate Boys & Girls Hostels
Myriad career opportunities await students who opt for the architecture program. From Entrepreneurship to Urban Planners, from being Landscape Architects to Environment Planners and heritage conservationists, the world is their canvas. Furthermore, academically inclined students can opt for Research in diverse fields of Built Environment and Urban Ecology. The digital revolution has left its indelible mark with emerging specialisations in Digital Architecture, UIUX, VR, Visualisation, Gaming and CAD/ CAM. Those with passion for teaching can use their knowledge to groom the next generation of architects and planners and help the cause of sustainability and carbon neutral developments.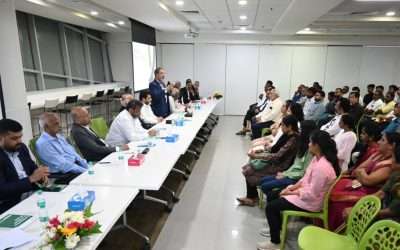 The beginning of a New year is always auspicious for the Bearys who believe that it is a time to be grateful for the blessings of the year gone by, to recognize and reward those who contributed to the organization, to motivate employee to give of their best and set its goals and road map. It is also a family day as Bearys acknowledges the vital part families play in the employees contribution.
SHEETAL M KUNDER
Student
,
The best thing about BEADS is the space it provides to each one of us. This atmosphere lets us grow.I have cherished the learning each day brings. Our faculty have always been supportive and their words keep us motivated to be our better selves. Learning also has been from batchmates from whom I have learnt best lessons of life.
SUSHMALEKHA D'SOUZA
Student
,
For some, college means enjoying life and partying hard , while for others, college means it is the time to be serious and focus on strengthening ourselves for future careers . I am glad to be part of this college, because BRADS brings both learning and fun in equivalence. With this balance, in the remaining years of my student life, with hardwork, I look forward to gaining greater knowledge which would help me become a valuable member of our society.
SHAHEEM HASAN C K
Student
,
My experience at BEADS of 2 years has truly been really wonderful. Our college is well equipped with facilities and faculties that bring out the best in us. The secure environment, dedicated faculties and cooperative seniors makes the juniours feel that they have selected the right college for their studies.
YOGEESHWARA K V
Student
,
"My 3years at BEADS have been great, and I have gained lot of knowledge. Apart from all the fun the learning aspect has been more challenging, but teachers have made it easier. I look forward to spend my remaining academic years learning and developing skills that will make me valuable member in the society. I have got and made some great friends here as well".
I B PRIYADARSHAN
Student
,
Our learning is greatly facilitated by the luxuriant green environment that surrounds our stunning campus, as well as by the extremely intelligent, experienced, and supportive faculty. I have also noticed tremendous improvements in my designs compared to my initial ones.
ZAINABA FAHIMA
Student
,
BEADS faculty strive to bring out the best in students. Learning is made into an exciting and interesting process. Apart from the physical infrastructure, the various club activities bring out the best in students. I am lucky to be part of this institution.
AR. WAHENGBAM GEETCHAND
I carry with me very pleasant memories from being a novice to now having successfully completing the architectural course at BEADS. The opportunity to meet diverse people has enriched me personally. For a person hailing from Manipur, I have received much love and support, during my extended stay far away from home.
MAIMOONA AHILA
Student
,
BEADS has strengthened my confidence levels and help me unravel my capabilities. The school has has helped me acquire new skills. The faculty at the department leave no stone unturned to help us shape our future.
SHIFA PARVIN
Student
,
For me, Architecture program has been a creative and mind opening experience. BEADS has been committed to providing the best learning environment with passionate faculty and resources to facilitate the process of learning. From seniors to staff, the BEADS family has always been approachable. The campus with its lush green ambience and peaceful settings, is an ideal environment for honing the creative faculties.
ABDUL AZEEZ J
Student
,
I have had a wonderful learning experience at BEADS. It has fostered my skills and helped me to think and develop my creative faculties. This college offers more than just academic content. Rather, the experience gained here prepares us for life.
AR. ANJALI PRADEEP
Freelancer
,
It has been a truely invaluable experience for me to have been a student of BEADS. The constant push from the faculties, encouraged us to enhance our personal skills. My four years at BEADS have been a wonderful experience of learning with prolific exposure to outside. Unfortunately , our 5th yr was spend home because of the pandemic... But the faculties managed the situation very efficiently.The years spend here at the campus, helped me discover my strengths and weakness..I'm forever humbled to be a part of BEADS family..
AR. ROOSEVELT FRANKLIN
Target India
,
It has been a great privilege to have had done my education at BEADS. BEADS offers more than just education, it is a way of life, the college is surrounded by lush greenery that create a serene ambiance which is amazing for the mind and body. The whole team of BEADS from the beginning have been very helpful and goal oriented to try to provide us with as much experience as possible. We have received teaching and experiences from the wide range of faculty we have had over the years and it is so helpful in my everyday life I am very happy and pleased that i was able to be a part of this organization and would encourage students looking for a quiet place to learn and develop their skills to be a part of BEADS. It was a wonderful journey which i miss very often , and i hope my friends and teachers that have been with me all those years will carry on to be a part of my life
AR. AFRA BASHEER
Deluxe
,
The education and knowledge that Bearys Enviro Architecture Design School provided was exceptional. I have been able to apply the things that I learnt at BEADS in my profession as well as personal life. Every faculty was unique and had their own experiences to share but what was common was their enthusiasm and zeal to impart the architectural knowlege and practices. The practical knowledge that was imparted here is helping me face the professional world with ease and enthusiasm. The Design school not only concentrated on academics but also extra curricular activities. The college has a very peaceful atmosphere and amazing infrastructure. The skills that I learnt while studying B.Arch have helped me face the professional world boldly. The efforts that I have put throughout the 5 years of this journey have been challenging yet rewarding. I am very fortunate that I got an opportunity to study at BEADS. I am truly grateful to the institution and all the faculties that have shaped my career and the person I am today. I am currently working as a Project Coordinator at Deluxe, Bangalore
AR. RAKSHTA VANNUR
Target India
,
Currently I am working for Target Corportation, Bangalore as Lead Specialist Store Designer. Target is An American retail corporation. Targets own more than 1800 retail stores in and around US. Target has enormous field for careers. I work for store planning team. Where we plan and remodel the stores. As we all know Bearys campus is located in a beautiful location with the view of Netravati river, mountains and with the beautiful greenery around it. The best part about me learning in Beads was that we had so many faculties, and we learned so many different things from each of them. Being the first batch we had no boundaries for learning as we had no reference to follow. We had a lot of exposure from all the faculties. The best part of the campus were my batch mates. We learned a lot from each other. Our mistakes, Our success taught us a lot. And each of us are doing so really well in our restrictives fields. I still remember the first day of my college, our dean said " the less you know, the more you learn. So it's okay if you don't know about architecture once you enter the field, but yes it's very important to know at least something once you leave. You will never stop learning in architecture . Everyday you will explore something new and different. I wish all the best to the students. May you have a bright future and find what you are seeking for.